Private equity and mergers and acquisitions in the manufacturing sector remained strong in Q3, finishing just slightly below the historically high level in the same quarter last year. Excluding deals larger than $1B, 150 deals were completed this quarter for U.S.-based companies, with nearly $3B in capital deployed.  Interestingly, the vast majority of the transactions were completed by private equity firms, with strategic buyers accounting for less than 10 percent of the overall deal volume.
The state of California continues to lead the way, with over 2x as many manufacturing companies completing transactions in CA as the next highest state (Texas). DCA continues to be active in the manufacturing sector as well, with several active M&A engagements and potential equity investments currently under review.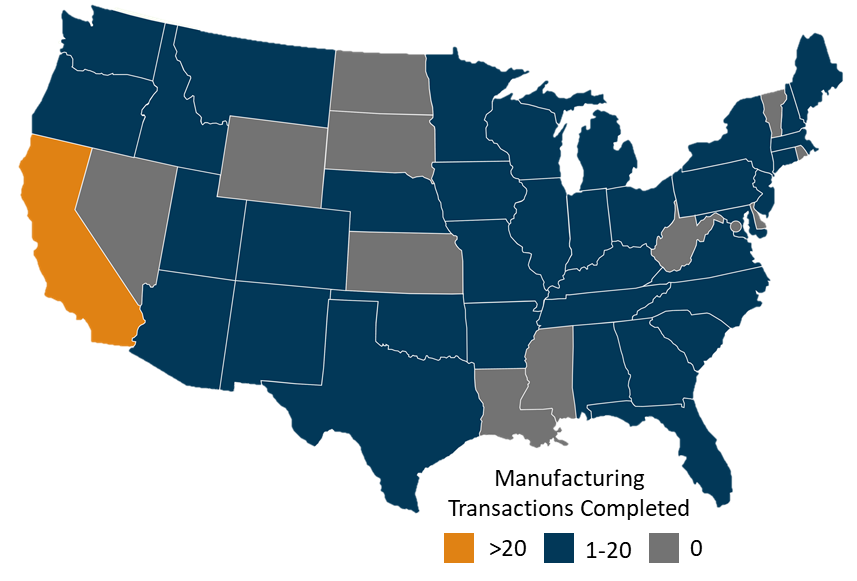 "Become an Industry Disruptor" Available Online
DCA's fall Success Series, "Become an Industry Disruptor", was our most highly attended event yet. Over 200 Sacramento-area professionals gathered at North Ridge Country Club for a panel discussion moderated by Curt Rocca.
Our panelists, Keith Yandell of DoorDash, Paul Janicki of Sierra Nevada Brewing Co., Shayne Sweeney of Instagram, and Don Clark of Clark Pacific, offered insights as to how their companies carved an edge in increasingly competitive landscapes. View the discussion in the video below.
5th Annual Capital Cup Raises $1.97 Million for Charity
The Capital Cup wrapped up on September 29th with a bang: the River City Dawgs won the tournament against the Sactown Marvels by a single point, and 24 charities walked away with thousands of dollars. Read More »
DCA's Senior Associate has been with the firm for three years and thrives on working in a new industry with each transaction. Get to know one of our up-and-coming team members. Read More »
Dave Kovar, founder of Kovar's Satori Academy of Martial Arts (a former DCA portfolio company), hosts a podcast based on the Satori lifestyle, covering topics that contribute to living one's best life, such as: health, relationships, business tips, and stress reduction. Listen Now »

Save the Date: "Sharing Our Success" Charity Event
Our winter Success Series is a festive celebration for the Sacramento-area business community. You are invited for an evening of camaraderie, a toast to friendships old and new, and an opportunity to bid on unique experiences. All proceeds are given to local charities. Registration opens in November.