M&A Activity Highlighted by Larger Deals, Favorable Market Dynamics
M&A activity remains strong, with 4,929 M&A transactions having been announced year-to-date. While mega deals, including the $121B Raytheon / United Technologies merger tend to capture the majority of the headlines, the median transaction size continues to be sub-$100m and squarely in the middle market category. Technology/Media/Telecom leads the industry verticals, as it has historically, in both number of deals and amount of capital deployed, followed by Industrials, Manufacturing, Life Sciences and Oil and Gas sectors.
While the total number of deals through the period is down from 2018, deal size is up, both on a relative basis as well as in aggregate, thereby indicating that buyers are focusing on larger, more impactful transactions. With deal volume declining slightly, and interest rates at historic lows, buyers are aggressively pursuing opportunities they deem strategic and valuable.
For business owners contemplating a sale, the opportunity to maximize value in 2019 and into 2020 remains extremely strong.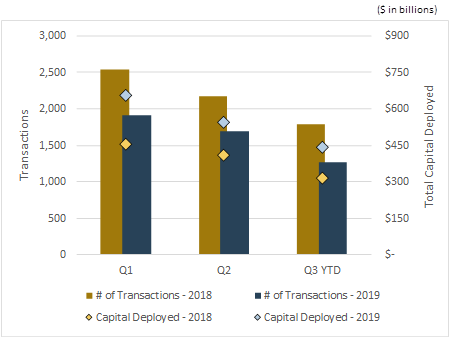 Think you know all the ways in which private equity can support business objectives? The many shapes and sizes of this asset class may surprise you.
Automation Group's Demo Derby
Automation Group, a DCA Capital portfolio company, participated in Destruction Derby Mayhem earlier this summer. Employees' kids were invited to take part in painting the 1985 Buick Le Sabre in the likeness of a shark.
Check out their highlight reel for a fun peek at the derby car in action!
Another Kind of Diligence
Craig, Amanda, and Brent raced in the Granite Bay Triathlon as relay team Due Diligence! While they achieved their goal of not placing last, doubts remain as to whether the race's difficulty was well matched to the team's ability, which is best described as "recreational". All in all, it was a successful event: gorgeous weather, no DNFs, and most importantly, no injuries.