We are less than a month away from the 2020 Presidential Election, so we thought it would be an interesting exercise to look back at the performance of the M&A and Private Equity markets leading up to and following the last election in 2016. Unlike the equity markets which are more prone to wild swings that are correlated to real-time events (e.g. the "buy the rumor, sell the news phenomenon"), the transaction markets have much longer cycles and therefore absorb news and macro events differently. As you can see from the below chart, 2017, the year following the most recent Presidential Election, was a relatively flat year in terms of capital deployed, with a few outlier deal flow quarters mixed in. The end of 2018 saw a strong spike, likely benefitting largely from economic tailwinds and the tax cuts that went into effect at the beginning of that year. As you recall if you've read our update regularly, deals closing in Q4 of 2018 likely kicked off their processes in Q1 of that year (fresh off the implementation of those tax cuts), so a spike there makes sense intuitively.
This year is obviously very different, with the uncertainty of the COVID-19 pandemic still creating a deal overhang that continues to drive trends down. And while the longer transaction cycles keeps us largely insulated from the Presidential race news cycle, we have seen a Q4 deal push from those who anticipate the impact of potential future tax changes depending on the outcome of this year's election. We will continue to keep you apprised of the market dynamics as they evolve. Here's wishing you a fantastic Q4. Be well. Go vote.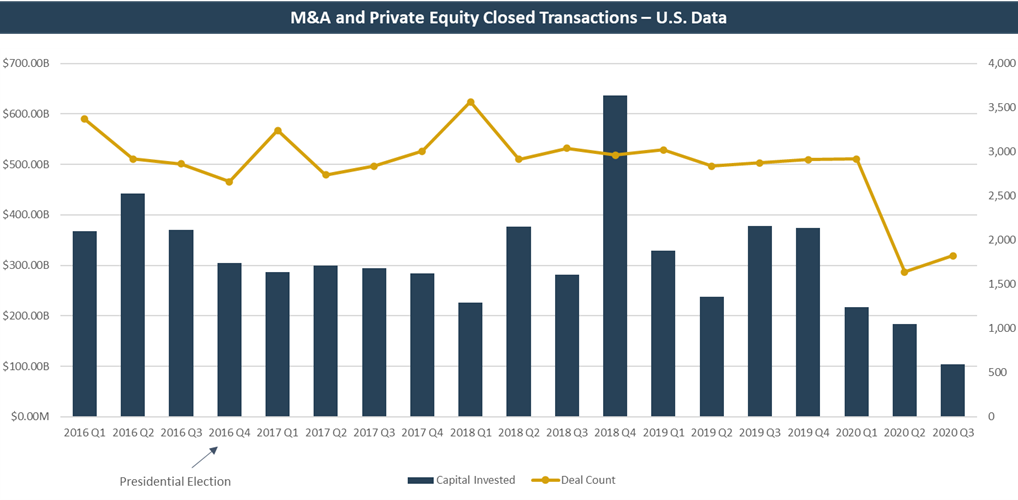 DCA SUCCESS SERIES: THE NEW WORKPLACE
The workplace is no exception to the many innovations and changes surfacing in response to coronavirus. The DCA Success Series will explore what the work environment is likely to look like in 2022: from voice-activated appliances, to on-site and remote workforce hybrids, to the elimination of conference rooms. We have assembled speakers from companies who have led the way in coronavirus-related innovations and workplace adjustments. If 2020 has taught us anything, it's the importance of preparation—time to get ready for the new normal.
When: Tuesday, November 3rd at 8:30 am (a much-needed Election Day distraction)
Who: Panelists include Kasey Garcia, Senior Manager, CBRE; Jaqueline Coppedge, Senior Occupancy Planner, Uber; and Anna Straus, Co-Founder & CEO, Sparck
Where: Virtual! Join from your computer
DCA is looking for smart, talented, and kind individuals to join our growing team. If you know someone who may be interested, please send them our way or email careers@dcapartners.com.

Portfolio Advisor/Value Creation Specialist
This individual will work hand-in-hand with management teams of companies in which DCA has made an equity investment, with a goal of increasing the value of each portfolio company during DCA's holding period. The ideal candidate will have at least 5 years of financial or general management experience, as well as strong financial and operational analysis skills. A collaborative and team-based attitude is essential.
Private Equity Analyst
This individual will work to assist the Portfolio Advisor to gather and analyze key financial and operating data in an effort to track progress on strategic initiatives and key operating metrics. The Private Equity Analyst will also assist with analyzing companies for new private equity investments. The ideal candidate will have a degree in accounting, finance, or similar field; strong Excel and PowerPoint skills; and 1-3 years of work experience. Read More ›

Investment Banking Associate
The IB Associate will quickly develop the skills necessary to lead Merger and Acquisition transaction processes for DCA clients. This individual should have 3-5 years of investment banking, commercial banking, operational finance, or accounting experience and strong project management skills. Read More ›
Investment Banking Analyst
This is an entry-level position into the exciting and high-paced world of investment banking. This individual will be the junior member of each deal team, where s/he will learn the skills and techniques required to be a successful investment banker. The ideal candidate will have a degree in accounting, finance, or similar field; strong Excel and PowerPoint skills; and 1-3 years of work experience. Read More ›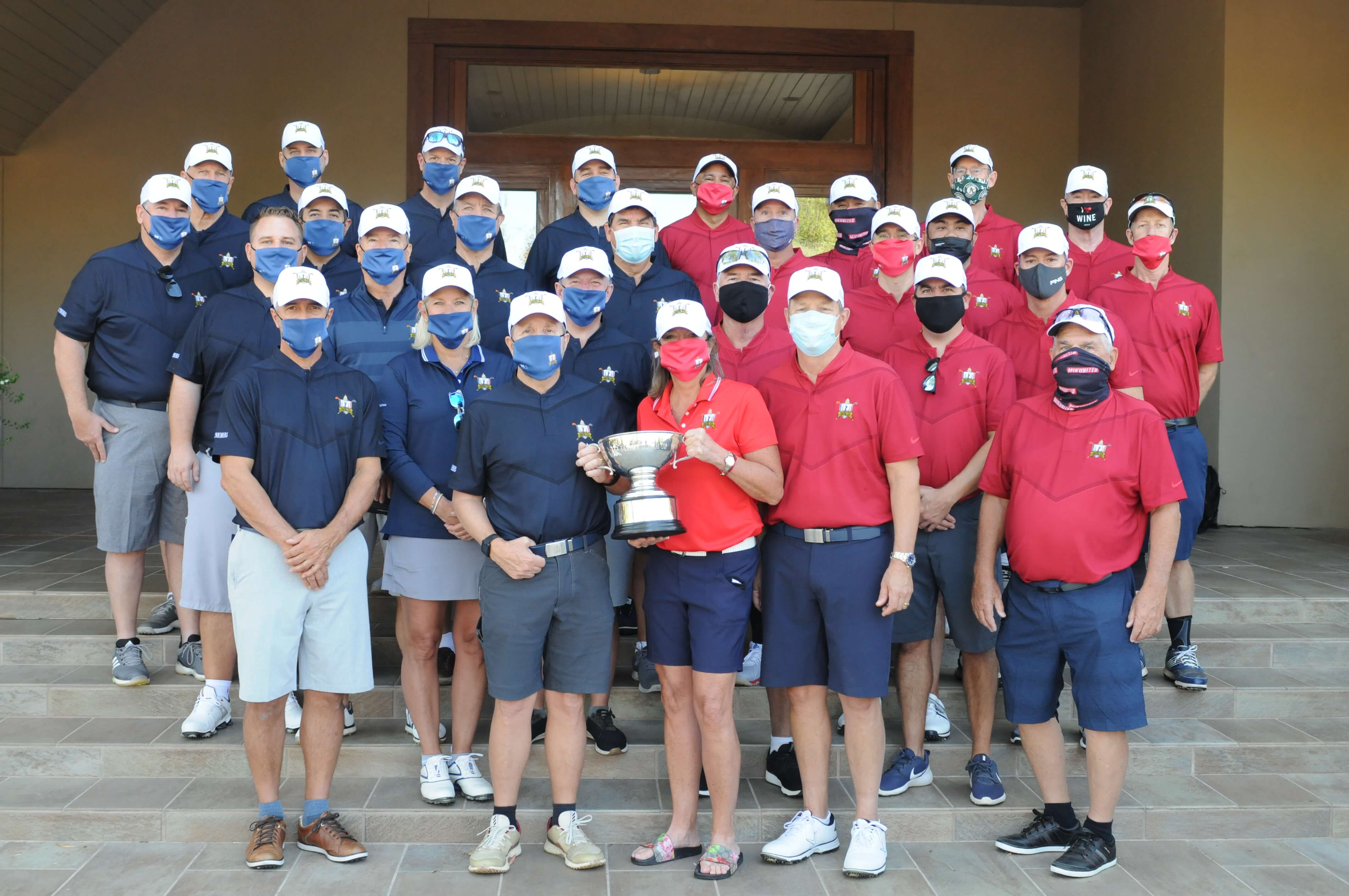 VILLARA CAPITAL CUP RAISED $1.86 MILLION FOR CHARITIES
The Villara Capital Cup, founded by Curt Rocca, raised $1,864,861 for 26 local charities and non-profit organizations this year. Twenty-eight Sacramento region business leaders fundraised on behalf of their favorite cause, then competed as two teams (River City Blues, left, and Sactown Scramblers, right). The Sactown Scramblers took home the trophy, and their charities shared a $100,000 prize purse, $45,000 of which was donated by Villara Building Systems.
Congratulations to all those who participated in this meaningful event, and thank you to everyone who donated this year and in years past. Collectively, the Capital Cup has raised more than $7 million over its 6-year history.
2020 Golfers:
*Ashil Abhat, Bank of America Merrill Lynch
Taro Arai, Mikuni
Chris Barr, California Bank of Commerce
*James Beckwith, Five Star Bank
*Geoff Brown, USA Properties Fund
Dale Carlsen, Bunker Wilson
Jim Carlsen, Carlsen Investments
Larry Chillemi, Grow West
*Bob Clark, Clark Pacific
Ed David, Aim Higher Inc
Shannon Deary-Bell, NorCal Beverage Co.
Joe DeBiasio, Jackson Properties Inc
Paul Esch, CVC Construction
*Steve Fleming, River City Bank
Craig Freeman, Freeman Investments
Gary Gelfand, KTXL FOX 40
Kevin Glenn, Ferguson Enterprises
Roland Guillen, Bender Insurance Solutions
Eric Johnson, GNT Solutions
Curt Kaufman, Walker & Dunlop
Larry Kelley, LDK Ventures
David Lichtman, Sacramento Business Journal
Kevin McCarl, Moss Adams
Tom Morton, Morton Golf Foundation
Phil Oates, Buzz Oates
Craig Powell, Natura
*Leigh White
*Rick Wylie, Villara Building Systems
* indicates current or prior-year captain