As we discussed back in April when the first signs of a market pause were starting to appear, the uncertainty surrounding the U.S. business climate and affected industries has been felt by all of us. As we have seen states and counties across the country begin to re-open, we are also starting to see how the various financial markets have been affected (as those of you who follow the stock market can certainly attest!).
For purposes of our analysis, we continue to focus on the U.S. M&A and Private Equity markets, and the effect that the macroeconomic disruption has had on deal flow. As you will see from the below chart, the number of transactions has dropped steadily as deals have been delayed or put on hold. The number of completed transactions in April of 2020 was nearly half of what was completed in 2019, and early May numbers seem to indicate that trend continuing. The expectation would be that we will see deal flow rebound in the third quarter as we continue to see restrictions start to loosen, but there is still a high degree of uncertainty about how quickly that will happen. For now, we wish you continued health and safety.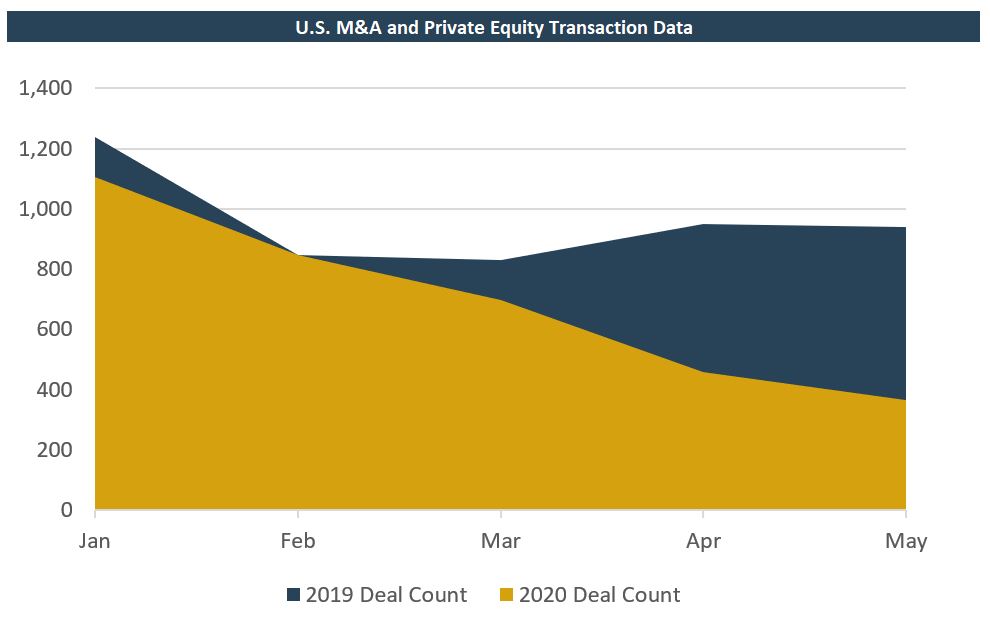 Tuesday, June 23 at 8:30 am | FREE
Presented by Curt Rocca and Larry Gilmore
Description:
Now is not the time to retreat–smart business owners know that now is the time to kick strategies into high gear to get ahead of the competition and access new markets. In this webinar, Curt Rocca (DCA Partners) and Larry Gilmore (VSP Global) will discuss why this is the ideal year to make strategic acquisitions, what financing options are available, and how to run a safe M&A process during a pandemic.
Learn what to expect in a typical acquisition process, including preparing the leadership team, setting measurable objectives, identifying targets, negotiating terms, and mitigating risks. Understand how to successfully integrate an acquired company to avoid post-close conflicts and headaches.
The shelter-in-place order turned everyone's lives upside down. But silver linings have come out of spending more time at home. The DCA team shared some of theirs:
I love opening the home-office window and hearing my kids play in the pool, laughing with their mom. – Brent
Instead of binge watching TV, I've taken the time to get reacquainted with books and have read books by Ernest Hemingway, Erik Larson, and Douglas Adams, thoroughly enjoying myself. – Steve
Since the lap pools closed, I've had to run outside for exercise, which I was never good at. Now I'm running faster and longer distances, and completed my first (virtual) 5K race last month. – Amanda
Working from home allowed me to witness my son experiencing many firsts, including speaking his first words! – Casey
My two sons, who live in Southern California, stayed with us for a while during quarantine. It was great spending time with both of them. Getting bonus time with our adult children was truly an unexpected pleasure, and a great silver lining amongst the pandemic. – Curt
With gyms closed and a limited ski season, many of my nagging injuries have healed! – Justin