A Holly Jolly Market Update
As 2019 comes to a close, we tend to expect a flurry of deal activity to close out the year. We generally view the end of the year as the target close date for M&A and Private Equity buyout transactions broadly, yet the data doesn't necessarily support this view. Over the past several years, holiday deal activity has actually decreased, from 10.7% of total transaction volume in 2015, declining to right around 8% last year. To put that in context, if we assumed no seasonal effect at all, one would expect 8.33% of transactions to close in a given month.
Through the first 15 days, December only accounts for roughly 3.2% of 2019 transaction volume. Despite recent trends, we would still expect this number to increase significantly, which means that we should still see a large number of deals closing over the next 2 weeks. So far many of you, that means a very busy end to 2019! Wishing you all the very best this holiday season.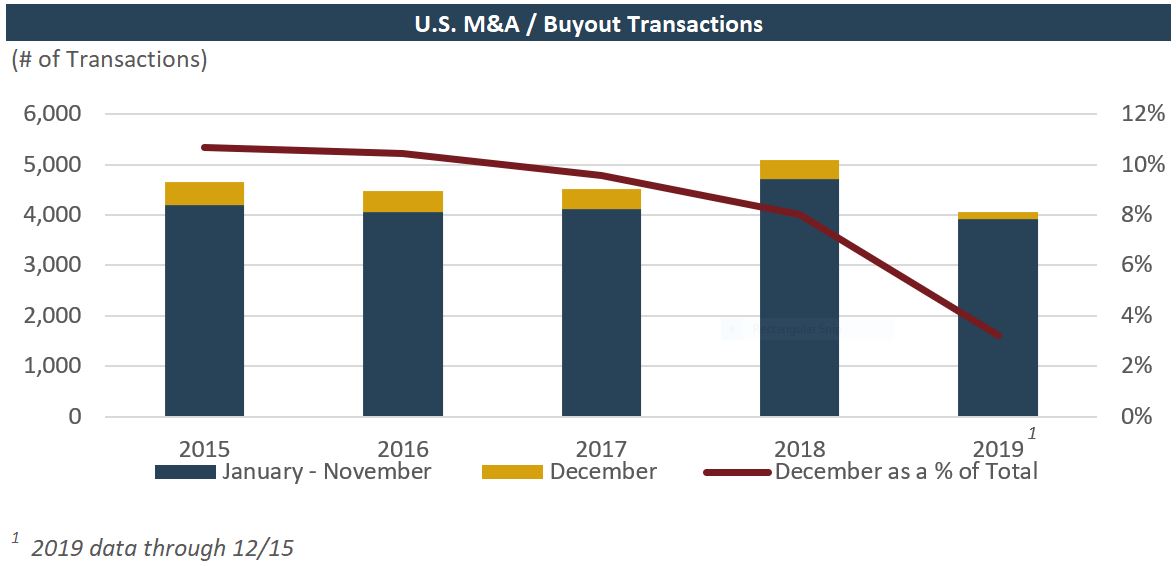 Navigating the Sale of the Family Business
Craig Mitchell interviews Nick Rajkovich on the sale of Farmington Fresh. They discuss building the market strategy, finding a buyer with synergies, the delicacies of selling to a competitor, and more.
Thank You for Attending "Sharing Our Success"
Heartfelt thanks to the record number of guests who attended our holiday Success Series, which provided more than $25,000 to local charities: ARC of Placer County, Saint John's Program for Real Change, Ticket to Dream, and UCP of Sacramento and Northern California. Your generosity will help provide less-fortunate children in our community a bright Christmas.
A special shout out to our 2019 Success Series sponsors:
Bouchard Communications Group
Capital Planning Advisors
Comstock's Magazine
FEI
Greater Sacramento Economic Council
HaneyBiz
InterWest Insurance Services
Moss Adams
Vistage
Weintraub Tobin
Wells Fargo
WorldBridge Partners